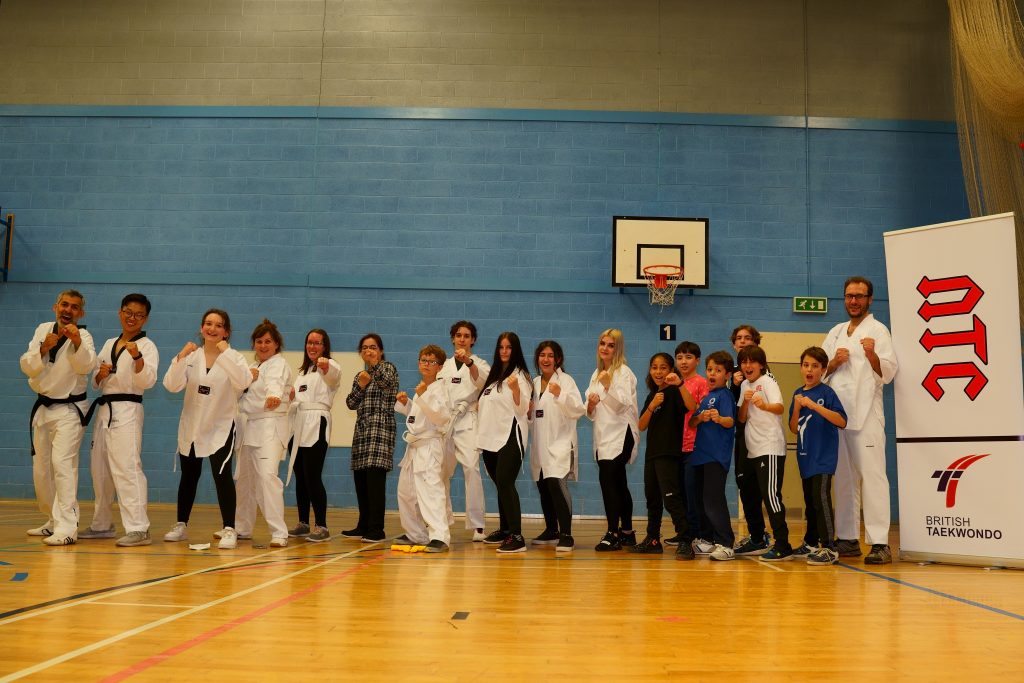 Students studying Korean Language courses at Burton and South Derbyshire College recently took part in a Taekwondo workshop delivered by NTC Derby, the longest serving Taekwondo Club in the U.K.
The session was held at Shobnall Leisure Complex and was an opportunity for BSDC Korean Language learners and members of the wider community to find out more about Korean culture and learn the basics of Taekwondo, as it would be taught in South Korea.
Taekwondo is a Korean martial art that is characterised by punching and kicking techniques, with emphasis on head-height kicks, jumping spinning kicks and fast kicking techniques. It is a discipline that focuses on training both the body and the mind. Taekwondo is now a global sport with an international reputation, and stands among the official games in the Olympics.
Burton and South Derbyshire College is an official study centre for the Korean language, in partnership with the South Korean Government, via the King Sejong Institute Foundation (KSIF). The 'Staffordshire Sejong Hakdang', run by BSDC, currently delivers a beginners Korean language course and hopes to increase the offer in January. Led by expert tutors, the courses are an opportunity for people in the area to start learning the Korean language.
As part of the Korean Language programmes offered at the College, learners also gain automatic access to the Staffordshire Sejong Hakdang cultural programme of events. The Taekwondo session was the first in the series of workshops that students will participate in to develop their cultural knowledge of Korea, with a range of future workshops due to take place, including K-dance, Korean cooking and Korean film.
Ann Walton, International Manager at Burton and South Derbyshire College said: "We're delighted to be launching our new Korean Language courses and a cultural programme of events. The Staffordshire Sejong Hakdang is the first official Korean Language centre in the West Midlands area and we are the first Further Education College in the UK to be selected. Our courses will provide the local community with an exciting opportunity to start learning the Korean language, while discovering more about the country's rich and fascinating culture."